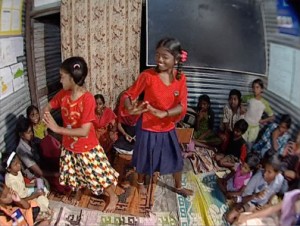 Children's participation in media provides a powerful tool and forum for adults to hear the views, needs, problems and aspirations of children. For too long programs and policies concerning children have been designed by adults who believe that 'they know best'. However, there is increasing evidence to suggest that the participation of children as primary stakeholders is central to the implementation of successful projects and policies. Furthermore, the public's treatment of street and working children has generally been negative due to misperceptions fueled by discrimination and stereotypes. Butterflies believes that through street and working children's participation in media, they will have an opportunity to inform policy and to promote positive and informed pictures thus radically challenging negative stereotypes.
Butterflies Alternative Media gives children the space to create their own media giving expression to the unheard voices of children. The media project provides opportunities for children to train and to participate in the production of their own newspaper, radio programmes and theatre. The objective of the Alternative Media Project is:
●  to provide a platform of communication to the children
●  to equip them with practical knowledge and skills required by a performer in the mainstream media
National Children's Times
"In our newspaper we report about our perception of a problem" Pintu, 14 years, Child Journalist
In 1996 the members of Bal Mazdoor Union (Child Workers Union), a working and street children's collective in Delhi, India, came out with the idea of publishing their own newspaper, to highlight their concerns that were otherwise neglected by the mainstream media. Thus they facilitated formation of an editorial board comprising of reporters, editors and publishers with children between the age group of 9-16 years and eventually initiated a bimonthly and bilingual (Hindi and English) newspaper, Bal Mazdoor Ki Awaaz (Child Workers' Voice).
In 2001, the editorial team of Bal Mazdoor Ki Awaz decided to expand their initiative to other parts of the country and in the month of May, 2001 "Workshop on Children's Production of their own Newspaper" was organized with 40 rural and urban children associated with 12 NGOs from 7 states of India. The outcome of this workshop was children from each NGO group started publishing their own bi-monthly (once in two months) newspaper.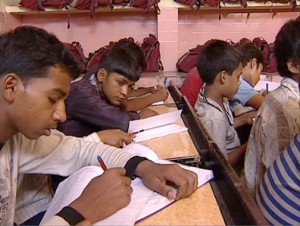 In February 2002, a follow-up workshop was organized by the editorial team of Bal Mazdoor Ki Awaz to share and learn from each other's experiences and also to discuss the issue "How to take this initiative forward". Child delegates of the follow-up workshop unanimously felt the need to have an identity as journalists and therefore decided to organize themselves into a "Rashtriya Bal Patrakar Manch" or the National Child Journalists' Forum (NCJF).
In 2003, NCJF was consolidated. First issue of "National Children's Times" was launched during 4th World Social Forum held in Mumbai, India, in January-04. 10,000 copies (5000 Hindi and 5000 English copies) of NCT reached out to children, adults and NGOs of various parts of India and abroad. Since then it is being published on a regular basis.
Bal Rang Manch or Children's Theatre
Drama is a powerful means of communication and a great tool for advocacy that engages people in understanding children's life stories and the kind of rights violation that they face on a regular basis. Drama helps to overcome literacy barriers, whilst also enabling children to share experiences and ideas amongst themselves. Furthermore, through preparing dramas children are able to reflect upon their experiences, analyze their situations and understand more about their own behavior and the way their lives are also affected by other people. Children's insights gained through their own drama expressions can be channelised towards productive collective action and advocacy.
"When I, as an individual want to express my problems, nobody is listening but when we form a collective and perform, people are suddenly listening. " – Raju, 15 years, former ragpicker
Street theatre has been an integral part of our alternate education program. The role of drama as a means of therapy, communication and advocacy has led us to form the Butterflies Bal Rang Manch or Children's Theatre. This theatre group currently consists of 30 regular members who meet with a street theatre educators. The Butterflies Bal Rang Manch regularly produces plays on various thought provoking social issues mostly directed by the faculty of National school of Drama (NSD) which is one of the foremost theatre training institutes in the world and the only one of its kind in India. Butterflies has established a working partnership with NSD to develop a curriculum on theatre.

The performances of the Butterflies Bal Rang Manch serve many purposes:
helps street and working children recognize and realize their potential
opens up children's perspectives and teaches them to see new possibilities that may help them to understand their surroundings better
develops skills in children to deal with life situations
makes children confident and skilled communicators
expands awareness among people regarding various issues prevalent in the society
helps children in coping with their psychological needs through the catharsis of theatre
leads children to be more open-minded and acceptable, as a result of the diverse roles they play in the creative process of theatre
assists them to understand the need to sympathize and empathize with situations and people
Butterflies Broadcasting Children (BBC)
"We should take our Butterflies Broadcasting Children forward. I would like to see Butterflies having their own separate studio and to me working there as an anchor"
(Hashim, Child Radio Anchor, age 14)
We should have a positive impact on advocacy for children and the positive role of children in the media by directly engaging them in the media. Radio is a powerful medium for children to reach the masses and to raise the status of children's rights, concerns and voices.
The Children associated with us also actively use radio as an effective tool of communication and hence they have come up with Butterflies Broadcasting Children (BBC) , a part of the Butterflies-Alternate Media Project. It consists of children who are effective communicators, articulate, knowledgeable about children's rights and experienced in democratic decision making. In March 2000 they were trained by Press Wise (a UK based Ethics body) with support from British Council in the basics of broadcasting i.e. information gathering, team work, communication accuracy, time management and in the use of mini-discs and Sony walkmans. Children participating in the BBC  have made quality radio programmes which are regularly broadcasted on various FM channels. Since February 2007, BBC children have been performing live on Radio Jamia 90.4 FM. The activities of BBC have also been covered by the National Television- Doordarshan and was featured in a programme called Salaam Bachpan ( Salute Childhood). Soon All India Radio, 102.6 FM , the National Radio Station, will broadcast programmes made by BBC children.
Cultural Evening
Cultural Evening is a unique platform for children to let go of their inhibitions, showcase their talent and take a healthy break from their daily hardships. This monthly event is held at India Gate on every first Tuesday of the month since its inception in 2004 and is open to all children between 9-14 years. Every month, on an average 100 children participate in this much awaited event. The evening ends with refreshments and prizes being distributed to all the participants.