Institutionalizing the concept of children's participation and a child's need to have her own space is not easy. In the first year of our work, although we spoke and discussed the right of children to freedom of expression, when it came to actual implementation, we somehow forgot about it or perhaps did not take it seriously, until it was brought home to us by the children. It happened in October 1988. As a team we were barely five persons.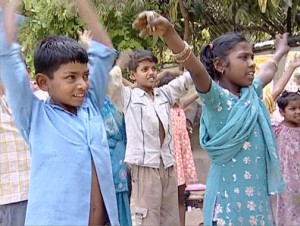 Diwali festival was approaching and generally there was a festive look and atmosphere in the city. The street educators decided that we must celebrate Diwali by gathering all Children at Central Park in the heart of the city and have fire works and a feast of sweets. The street educators called a meeting of Children and having decided the activity they informed all the Children about their decision and asked for their approval. In Butterflies nothing is given free, Children contribute for everything. Therefore, a group of Children questioned the decision of the street educators of wanting to celebrate Diwali by fire crackers and sweets, according to them it was a waste of money. They told the street educators they would rather save that money to buy sweaters and woolen clothes as winter was fast approaching rather than waste it on firecrackers. Their decision prevailed.
This incident is what gave birth to the concept of Bal Sabha (Children's Council). It has proved to be the single most important key to sustain and develop Children's participation, thereby empowering them.
Children's Collectives – Bal Sabha / Bal Samiti
Children's participation is a core value of Butterflies. We ensure that there is children's participation in two ways.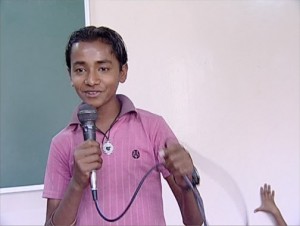 Bal Sabha (Children's Council) – Bal Sabha or the Children's Council forms the soul of Butterflies program. The objective is to provide a platform for children to meet, discuss, share their ideas and decide on issues concerning them. Small Bal Sabhas are conducted in all contact points every fortnight while the Big Bal Sabha are conducted every month in which child representatives from all the contact points come together to discuss their issues, analyze on-going activities as well as plan future activities. The Bal Sabha's gives children the opportunity to learn the principles of democracy i.e. every person has a right to an opinion and freedom of expression, a consensus must be reached to take a final decision and that sometimes a compromise is needed.
The Bal Sabha is also a space for children to comment or critique the programmes or policies of Butterflies, apart from also discussing social, economic and political issues that are impacting their lives or lives of other children.
Bal Samiti – One child representative from each contact point meets with the Director of Butterflies every six months. It provides a platform to the children to apprise the Director of the situation in the contact points and also share their issues and concerns.
The Bal Sabha and Bal Samiti meetings give us directions to introspect, make adjustments or take decisions in the interest of the children.
Children's Collectives – Delhi Child Rights Club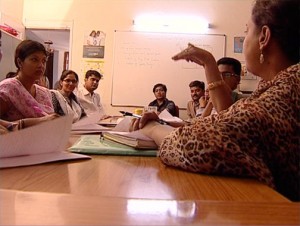 The Delhi Child Rights Club was launched by children participating in the Butterflies program on Human Rights Day on 10th December 1998. With adult's failure to protect children's rights in Delhi, the children took it upon themselves to ensure action to promote and protect their rights. Children pledged to form a citywide Delhi Child Rights Club as one mechanism where-by they could work together towards creation of a child safe and friendly city. Their Club enables children in Delhi to meet together to find ways to increase awareness and action about children's rights. Moreover, the Club seeks recognition as a forum of children who should be consulted whenever city policies or decisions are being made that affect them. Currently 13 organizations working with street and working children in Delhi are members of Delhi Child Rights Club (DCRC). Their names are: Angaja Foundation, Anubhav, Ashray, Ashadeep Foundation, Bal Sahyog, Butterflies, Deepalaya, Delhi Brotherhood Society, Don Bosco Ashalayam, ICCW, Navjyoti (DPF), Salaam Baalak Trust, and YWCA-Delhi.
DCRC has a core group, which has one child representative each from all DCRC member NGO's. DCRC adult facilitators from each member NGO have also formed another core group to assist children in DCRC activities and programmes without interfering in children's right to participate. DCRC members meet once in a month to plan their activities and implement it properly. DCRC Leaders (Core Group) meeting is organized once in two months. With the objective to chalk out their Annual program calendar, DCRC members meet in the beginning of every year.
Through discussions, workshops, drama, songs and games, DCRC members share their experiences, plan and undertake actions (awareness campaigns, rallies and programs) which promote their rights. DCRC members also conduct studies on issues concerning their lives and share it with decision-makers and media. For example, in July and August 1999 the children held 'emergency meetings' to discuss a strategy for sharing their concerns as child workers with politicians, in the hope that their views could be incorporated in the Manifestos of Political Parties as the country was readying itself for general elections. These meetings resulted in the development of a 10-point demand, a memorandum of children's needs and concerns as children and as workers that should be met by political parties. With over 1000 signatures of children in Delhi, on August 5th 1999, a delegation of child workers met and delivered their '10-point demands' to the Chairpersons of Manifesto Drafting Committees of various major political parties (e.g. Congress, BJP, CPI, CPM and Janta Dal).
Furthermore, through a 'community mapping action planning process' Delhi Child Rights Club in early 2000 organized a series of action programs in a number of locations to raise awareness of their major concern regarding the way adults drink alcohol and harass children.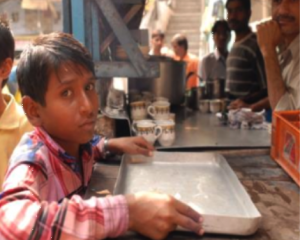 In 2001, DCRC members through series of workshops discussed the issue of education and 93rd Amendment Bill to the Constitution of India related to education that was to be introduced in the parliament in November 2001. DCRC held a press conference to share their comments on the 93rd Amendment to the media. They also sent their comments to the Speaker of Lok Sabha. In the same year DCRC members had also organized workshops to deliberate on the ongoing war on terrorism in Afghanistan and its effect on children and released a report on the issue of "War and its Effect on Children" on the occasion of UNCRC anniversary.
In 2002 DCRC members, through a series of workshops discussed the issue of communalism and its effect on children. They also discussed the Delhi Government's order to ban ragpicking for children below the age of 14 years. On both issues they sent their suggestions to the government and media.
In March-April 2003 members of DCRC had gathered information through a series of workshops on the situation of children and women working in informal sector. The children presented their findings to distinguished guests from political parties, trade unions and national and international press on the occasion of Child Labour Day (30th April). This was followed by the release of DCRC report "India's invisible and Footloose Labour: An Analysis of the Situation of Children and Women working in informal sector". In the same year DCRC participated in a 'dharna'/rally organized on the issue of formation of 'National Commission for Children' and registered their protest in not consulting them while forming it. On the occasion of Human Rights Day on 10th December 2003, DCRC released a study – report on "How Safe and Child Friendly Is Delhi For Children" and shared the main findings of the study to distinguished guests from Delhi Government, political parties and media.
During 14th parliamentary elections (April-May 2004) DCRC members prepared an 18-point memorandum and submitted it to the leaders of all political parties and requested them to seriously work on those issues and concerns in forthcoming 14th Parliament.
In the year 2004 – 2005 DCRC members held discussions on the "Commissions for protection of Child Rights bill 2005" which was tabled in Parliament and gave their suggestions to make it more child friendly and realistic.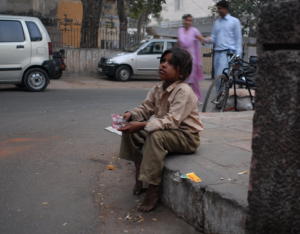 In March 2006, DCRC had organized a 2 day consultation with their members on the "Offences Against Children Draft bill 2005" with the aim to give children a chance to raise their views on issues of their concern as well as make the bill more effective and child friendly.

In July 2006 DCRC members got to know that Government of India is in the process of preparing 11th Five Year Plan for the nation. In this context DCRC members organized five state consultations and one national consultation to review the initiatives on child protection in the 10th five year plan and submitted a report to the planning commission on India that "what children would expect government to do in the areas of child protection through 11th five year plan".
On 30th April 2007 DCRC organized Child Protection Solidarity March for Missing Children and submitted a memorandum to President of India -Shri. APJ Abdul Kalam, Prime Minister of India – Shri. Manmohan Singh, Speaker of the Loksabha -Shri. Somnath Chatterjee, Chairperson, United Progressive Alliance- Smt. Sonia Gandhi, Minister of Women and Child Development- Smt. Renuka Chowdhury and Leader of the Opposition in Lok Sabha – Shri. L. K. Advani so that every child gets a protection from all dangers of abuse, exploitation and all missing children are restored back to their families.
DCRC brings out its own Hindi newspaper called "Delhi Children's Times" once in every two months. The child reporters associated with Delhi Children's Times go around taking news and views of the adults on child rights issues and in a manner play an important catalytic role in sensitizing them.The first issue of DCT was published in April 2007 based on children's contributions. The first issue was very rich in content as it covered general people's views on child labour, education and other issues along with interesting stories, poems, news, paintings creating and contributed by the members of Delhi Child Rights Club, school children and children from the community.
Child Workers Union / Bal Mazdoor Union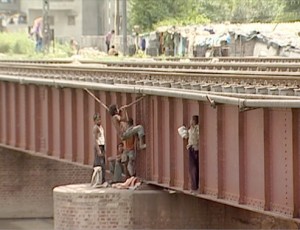 Street and working children tend to face insensitivities by many people who interact with them at several levels. Their rights are easily violated. Generally looked down upon by people at large, they constantly face harassment by police and employers, beaten up on false charges of theft and street brawls. In order to fight for their rights, the street and working children have been facilitated to collectively take action for themselves through the Bal Mazdoor Union-(BMU) or Child Worker's Union.
Bal Sabha discussions have led to the emergence of the formation of the Bal Mazdoor Union or Child Worker's Union. Started in 1991, Bal Mazdoor Union is a collective of street and working children, a platform of and for children who are denied access to those very basic rights that are granted to each and every child in India by the Constitution of our country and the Convention on the Rights of the Child, ratified by the Government of India in 1991. It forms relationship with children especially street and working children and not only voices their concerns but also fights for the rights of each and every child whose right has been violated. Bal Mazdoor Union keeps abreast on the situation of children's rights in not only Delhi but also in the whole of India and the world, holds discussions on these situations and if needed takes an action. Its goals include to:
● Strengthen the movement of working children at national and international level so as to stop the exploitation of children at all levels
● Provide opportunities for their growth and development
● Give children their due right to be consulted and participate in decisions concerning their lives
August 1991 INA market, Delhi: An incident catalytic in the formation of the Bal Mazdoor Union.
Vijay, a street child was beaten up mercilessly by his employer on false charges of theft. Agitated by this aggression, Vijay slapped the employer, and this action created a furore. In retaliation, the shopkeepers and the police joined hands and bashed up all the coolie boys. Facilitated by Butterflies, an emergency meeting was called in the evening, wherein a resolution was passed to work in solidarity for their own cause and take action to safeguard their rights. Thus was born the Bal Mazdoor Union or the Child Worker's Union.
What is the role of the BMU?
The BMU seeks to
● Educate and conscientise children regarding their rights both as children and as workers
● Negotiate for better wages and working conditions for working children
● Mobilize public opinion to redress conditions and pressures that forces the children to work, including the
situation of poverty and unemployment of their families
BMU's INVOLVEMENT
● BMU is an active member of World Movement of Working Children and Adolescents since its inception in
1996 and has participated in all its meetings
● BMU has contributed to the identification of like minded children's organizations / initiatives in Asia for the
expansion and strengthening of working children's movement in this continent
● At BMU's initiative, an Asia level meeting of working children's organizations was organized in Kathmandu in August 2005
● BMU participated in the 2nd world meeting of working children and adolescents held at Berlin from 19th April-2nd May 2004. The participants were 30
delegates representing different children's movement /initiatives from 3 continents viz Asia, Africa and Latin America. The objective of the meeting was
to consolidate working children's movement across the world and to challenge the agencies that oppose child labor and want to eliminate/ban it
without understanding the root causes
● BMU members also participated in the in the 3rd World Meeting of Working Children at Siena (Italy) from 15-29 October 2006. 23 representatives of
working children's forums/collectives from Asia, Africa and Latin America participated in this meeting. Representatives of all the movements discussed
their major concerns and came up with a do-able plan of action along with the strategies for taking their movement forward and also for making their
lives better. A formal structure of the world movement of working children was also discussed and decided during this meeting
Role of Children's forums/BMU to end the exploitation of working Children Article 15 of the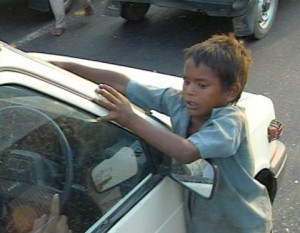 Convention on the Rights of the Child, strengthens children's right to form associations to secure their rights.
Exercising this very right, the formation of BMU (a clear expression of children's participation and empowerment) can be a strategy towards elimination of child labor.
The street and working children have a hard life to live and are aware about the issues that confront their existence. Being forced to work for their survival, and in many cases for the survival of their families as well, they become aware about their hardships, significant issues that they have to tackle and so on. BMU provides a collective forum for such children to come together and fight for their rights.
Given an insensitive environment around them, BMU helps the children to organize themselves to protect their own rights.
Child labor has existed and will continue to exist because of the neglect of the issue in the political decisions and economic policies of the government, and it is appropriate for an informed collective like BMU with a broad socio-political vision, to fight for the rights of children as child workers.
This demand may have a spin off effect on employers, as agreeing to the demands for equal wages, better working conditions and additional facilities related to the development needs of children (e.g. education, health etc.) will cost the employers much more and child labor will not be an attractive proposition for their employers.
The Bal Mazdoor Union's aim and commitment is not just to negotiate for better wages or working conditions, but to mobilize public opinion to redress conditions and pressures that force children to work, including the situation of poverty and unemployment of their parents.
Children's Collectives – Children Child Health Co-operative
Child Health Co-operative is a very unique initiative and forms one of the main components of the Butterflies Health program. Over the years Butterflies mobile health care project has grown into a child health co-operative, owned by the children. Child health cooperative is a forum of street children where they discuss their health problems and chalk out strategies to combat health problems. Each child pays Rs.5 towards monthly memberships. The proceeds are used to provide medical care to the children. The cooperative has regular workshops where children deliberate on health issues and gain knowledge regarding diseases. This has instilled a sense of collective ownership and participation amongst them. The cooperative is open to any street and working children.
Also check the following Butterflies India links regarding Children's Collectives;
< Bal Sabha / Bal Samiti
< Children's Development Khazana
< Delhi Child Rights Club
< Child Workers Union / Bal Mazdoor Union
< Child Health Co-operative