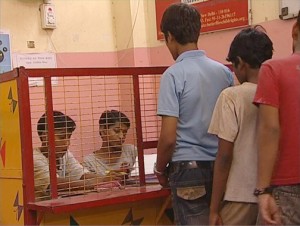 Children's Collectives – Children's Development Khazana(CDK)
A school for learning and practicing Children's Participation and Democratic principles
CDK is a project conceived, initiated and anchored by Butterflies Program with Street and Working Children, Delhi, India.
Street and working children constitute one of the most disadvantaged sections of the urban population. These are children who have escaped hunger and violence at home to seek a better future in cities only to experience worse forms of violence and betrayal by the adults in those cities. It is amazing how these children survive in spite of all adversities and continue to maintain a positive outlook and look for a bright future.
The urban child workers are a group of children who belong to poor families that are homeless or live in slums. These children work to supplement their family income and in some cases are the sole bread winners. They work as porters, scrap pickers, street vendors, and shoe shiners and in some instances as helpers in shops. These children are denied two basic fundamental rights – Education and health care.. These children struggle for their survival and yet maintain their dignity.
CDK is the response to their situation
The Children's Development Khazana or Bal Vikas Bank as it is known in India is a logical evolution of Butterflies. The Khazana was started in April 2001. The project was conceptualized and initiated by Butterflies as a vehicle to empower street and working children.  The CDK is now operational in the South Asian region with 29 main branches and 77 sub branches of CDK operational in Afghanistan, Bangladesh, India, Nepal and Sri Lanka. Within India, CDK is in Leh (J&K), Kolkata (West Bengal), Chennai (Tamil Nadu), Delhi and Mujaffarpur (Bihar).
Children's Development Khazana project is a vehicle to:
● Empower street and working children with skills for democratic functioning
● Promote principles and practices of democratic participation
● Teach and help prioritize needs, how to budget, save and manage money
● Provide children with the tools to be a self reliant, productive and respected adult in society
C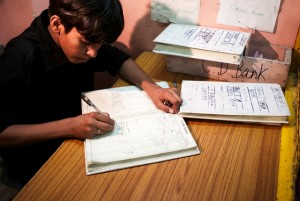 hildren and adolescents are the only stake holders. Any street and/or working child can save money with the bank, a bank which is their own and is run by children like them, under the guidance of adult facilitators. Implemented as part of life skill education, CDK enables its members to earn an interest on their deposits and its adolescent members to access advances for initiating small economic enterprises or cooperatives.

The primary objective of the CDK is to impart life skill education, to teach children to be responsible, to inculcate the habit of prioritizing needs, to budget and save. It helps in providing security to a child or adolescent's future. Street and working children are able to use the capital for their empowerment.
Specific CDK objectives are to:
● Inculcate habits of saving and budgeting
● Equip street and working children with the tools to access education and health care
● Organize street and working children/adolescents for collective action for self- empowerment
● Provide knowledge, skills and support to initiate and manage economic enterprise (small businesses)
● Enhance self esteem and confidence of children and adolescents
● Work in partnership with other children/youth related organizations and media, financial institutions andlocal entrepreneurs
● Provide technical assistance and training to other children's groups in India and abroad to set up their own
Children's Development Khazana.
CDK teaches children basic principle of banking. They are also taught how a bank functions and more importantly how a cooperative bank functions. The volunteer managers are also taught basics of accounting that is how to keep a ledger, cash and pass books.
The issues of democratic functioning are understood when the children themselves manage the bank. They learn to negotiate, draw rules and regulations, and be responsible of other children's money. This also strengthens their value system. The CDK in turn also becomes their lifeline as it gives them a sense of security and supports them with funds in times of crisis, use their money to improve their lives by spending it on useful things such as, buying nutritious food, taking care of their health, for school fees, books and clothes.
Adolescents are also taught how to make business plans and what are the important issues to keep in mind while identifying a particular business enterprise, the knowledge and skill required for the same, what kind of capital is required and so on.
CDK enables its members to earn interest on their deposits and its adolescent members to access advances for initiating small economic enterprises or cooperatives.
Adolescents are taught the value of ethical practices in their business. All children associated with CDK continue their education. They focus on becoming entrepreneurs or learning a professional skill and exiting from their situation of poverty and insecurity.