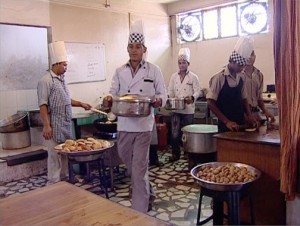 The Butterflies' experience has proven that in order to engage the interest and motivation of street and working children and to sustain that interest in studies, the curriculum has to be relevant and the teaching methodology should be child friendly and fun. We have included Life Skill Education as an integral part of our curriculum particularly in the case of adolescents. When street children reach adolescence, they begin to worry about their future. Mere vocational training is not sufficient in making them self-reliant, thus, it is necessary for these adolescents to be given life skills education including how to manage a business if they are to compete in the labor market. We feel that adolescents should be provided with skills that are marketable, which will ensure a sufficient level of monetary return, empowering them to break the poverty cycle, and giving them a life of dignity and respect.

BUTTERFLIES COMMUNITY KITCHEN: A CAREER OPPORTUNITY
Butterflies Community Kitchen program was established in June 2003 and provides the following:
●   Food
●   Elementary education
●   Vocational Training and Life Skills
●   Employment
The community kitchen project provides training in food production, marketing and distribution. This has appealed to large number of adolescents who have described this training as a means to a career in restaurants, hotels, food services or in setting up their own enterprise.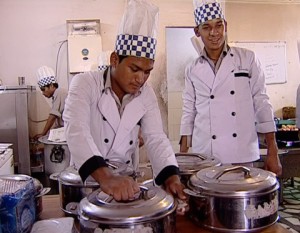 The Community Kitchen involves 12 adolescents from the street at one time who help to manage the kitchen. India renowned institutions like Pusa Institute of Hotel Management, Catering & Nutrition, Taj Mansingh and ITC Maurya Sheraton have provided training to these adolescents in preparing food, packaging and serving. The trainees at the community kitchen are also enrolled in the NIOS education program and are often a part of other activities at Butterflies such as the Children's Development Bank, Health Co-operative, Alternate Media, Computer Education etc. The income generated from the Community Kitchen gives them working status as a professional and equips them for a career in the hospitality industry, which has been a growing demand for employees. The more enterprising among these children also have the option of setting up their own catering business.

GOAL
Butterflies Community Kitchen aims to:
●   provide hygienically prepared wholesome meals at highly subsidized rates to street and working children
●   provide a nutritious and hygienic meal as food for education – to motivate street and working children to attend school regularly
●   encourage children to save their earned money in Children's Development Bank (which would otherwise be spent on buying food)
●   provide marketable technical skills to adolescents in food production and catering services that aim to enhance employment opportunity for children. Vocational Training is given in 6 key aspects of running a restaurant business namely Cooking, Serving, Packing, Operations, Marketing and Distribution and Finance
●  impart Life Skills education to enable these under-privileged adolescents to gain a place within the rank of professional circles alongside children from more privileged backgrounds. The curriculum includes modules on communication, etiquette, discipline, savings, entrepreneurship, banking, etc
●   open doors of employment: The ultimate objective of community kitchen is to prepare adolescents for work in any fine dining restaurants or to run their own commercial kitchen

CHILDREN'S PARTICIPATION
Butterflies Community Kitchen is an initiative that is both run and managed by the children themselves.  It has proved to be a great institution wherein adolescents learn decision-making, leadership, teamwork, management, entrepreneurship, communication, etiquette and discipline.

PROMOTING HEALTHY FOOD
The Community Kithcen also works to promote nutrition and healthy food choices for children and to the larger community.
●   free nutritious meals to more than 200 street and working children, associated with Butterflies programs in the night shelters, who have agreed to continue their education in the formal schools
●   highly subsidized (Rs 2.50) nutritious meals to more than 400 children in the contact points and night shelters run by Butterflies
●   priced meals to offices such as Butterflies, other NGOs , hospitals, Corporate houses, and for meetings/workshops in academic institutions, to people at  Nizamuddin East outlet, near Sarai Kale Khan and ISBT
●   packed lunches to Government organized programs and fairs for children

BUTTERFLIES CATERING SERVICE
Butterflies Community Kitchen provides hygienically packed nutritious healthy food at very reasonable prices to any location throughout Delhi. We take orders for catering for seminars, conferences, meetings, meals (fairs), parties etc. We can also prepare food for people with dietary restrictions.