Butterflies believes that NO CHILD SHOULD BE OUT OF SCHOOL.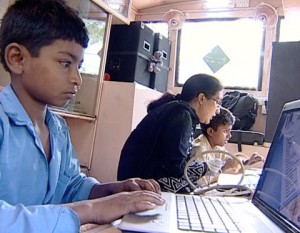 We believe education is the fundamental right of every child.  In addition, education is a lifeline for poor children to break the cycle of poverty. Butterflies works to provide a quality and equitable education to all children, and education that is both content based and contemporary. Our objective is to empower children with the knowledge and skills they need to be successful.
ISSUE
Most street children have never been to school, unable to afford the time or the money to do so. As part of the Education Initiative, Butterflies encourages and provides education for the street and working children who lack motivation to seek education, who have no access to school at all or have dropped out.
The OBJECTIVES of our Education initiative are to
●  Increase access to education for street and working children
●  Improve the quality of teaching-learning processes
●  Identify and implement strategies to address learning needs of street and working children
●  Improve the learning achievements among children
●  Ensure community participation and support
STRATEGY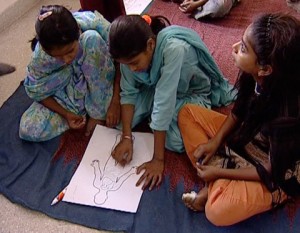 Butterflies supports India's ongoing efforts to provide a quality education in Delhi. The challenge is to ensure that street and working children have access to a quality education and complete the full elementary cycle, with improved learning outcomes. Butterflies plays a positive interventionist and a catalytic role in pursuit of these goals.  Butterflies has a defined partnership with the government of Delhi and other stakeholders at all levels (state, district and sub-district).
Butterflies implements NON FORMAL EDUCATION PROGRAMS too, free of cost, which starts from the children's own experience. Street children have immense knowledge and experience of the working world, so Butterflies focuses on practical application  as well as the more traditional three "R"s. This is seen as an interim phase prior to the child being admitted to a formal school or National Institute of Open Schooling (NIOS). During this period we inculcate into the child an interest in reading, writing, arithmetic and art work.
Child Rights Facilitators and trained teachers are available at all times to suit the children's needs.  For example, classes are conducted at street corners, in parks and at vegetable markets. This increases the visibility of this initiative so even if children are not regulars they can stop by at a class whenever they are able to. When children reach a certain level of educational achievement they are coached to undertake national exams. Coaching classes are held for those children who go to formal schools in our night shelters.
TAKING EDUCATION TO THE STREET: MOBILE EDUCATION
'If the Children cannot come to the school, let us take this school to them' is the mantra of the Mobile Education.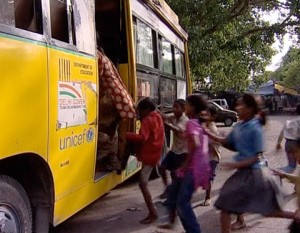 With the objective to take education to the deprived children still outside the education net, in 2008, Butterflies started its Mobile Education program called Chalta Firta School (Mobile Learning Centre) and Chalo School Aaya (Mobile Education and Research Centre) with support from the Delhi Government and HSBC respectively.
Chalta Firta School is a part of Sarva Shiksha Abhiyan and has brought school to the doorstep of children who for various reasons were unable to obtain admission into regular primary schools or who did not have access to quality formal education. On the other hand, Chalo School Aaya gives more emphasis on providing life skills education to children.
The mobile school has been especially designed with the latest technology, including up-to-date audiovisual equipment and a complete range of interactive child-friendly educational material. The material teaches children in an easy and yet unconventional manner encouraging the child to return when the mobile school visits the area again.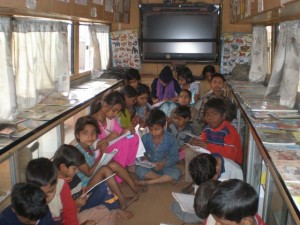 Butterflies now uses educational toys like blocks and flash cards to teach mathematics, alphabets and sentence making in addition to incorporating multilingual and bi-lingual educational books and toys to promote the plurality India.
REACH
More than 1200 children are part of the non formal education programs while 300 children are accessing education through the Mobile School. 50 children have been admitted to formal schools.