Street and working children live and work in extremely unhygienic conditions making them prone to severe skin conditions like scabies. At the same time, as these children live and work on the streets they are susceptible to physical injuries, which often left untreated leads to impairment of body parts. One can see a high incidence of substance use among children as well.  In addition, they are often susceptible to sexually transmitted infections thereby making them fall into the high-risk category of people who could be exposed to HIV. Thus to reduce the problems faced by children and at the same time also create awareness amongst them about hygiene and nutrition, the health care program was started by Butterflies in 1989.
Objectives of Butterflies' Healthcare Program
To provide both curative and preventive treatment accessible to the children directly on the street
To form health cooperative of the children and to empower them to have ownership of the health project
To increase the awareness level of the children in terms of their health needs
To establish a cadre of child health educators
Propagating the concept of health cooperative at community and grass root level for collective action in the field of health
To network with the health professionals in the city as well as the government health care institutions
Advocate for change in policies on health issues at central, state and local levels, which has direct bearing on children's lives
There are three vital components of the Healthcare program: Curative, Preventive and Promotional Health Care.
In the Curative project the mobile health van along with a doctor visits all the contact points on a weekly basis to provide medical treatment to children in need. Along with it there are doctors who visit the night shelters to provide medical care.
In the Preventive project we have the health education curriculum. It is an integral part of our life skill education program. Issues ranging from HIV/AIDS, nutrition, rabies and tetanus to tuberculosis are dealt with. Improving knowledge and skills of children and thereby reducing their susceptibility is the primary objective.
In the Promotional project of health care we support the training and work of Child Health Educators and the Health Cooperative.
Child Health Educators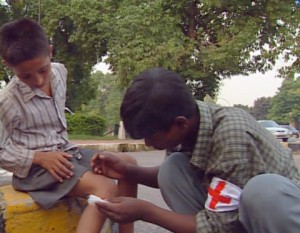 In order to tackle minor injuries and ailments in shelters and contact points in absence of a doctor, children are given basic training in first aid and handling emergencies. Their peers from different contact points select children who are then trained to be Child Health Educator. They are also made aware of different departments of government hospitals, to ensure that a child in need gets immediate medical attention. The children have also been provided with first aid kits for handling emergencies. Equipped to tackle situations, the child health educator complements the health team.
Responsibilities
When a child falls sick, it is the responsibility of the child health educator to bring it to the notice of the street educator and the health team. If
required the child health educator can take the child to a nearby government hospital for treatment
If any child is hospitalized, the child health educator remains in the hospital as attendant and organizes other children for care and support
Gives aid in minor ailments
Counsels' children about hygiene and good living
Disseminate information that helps in reducing risk behavior against substance abuse, STD's, HIV/AIDS
Promotes the concept of health cooperative and collective action
Child Health Co-operative
Child Health Co-operative is a very unique initiative and forms one of the main components of the Butterflies Health program. Over the years Butterflies mobile health care project has grown into a child health co-operative, owned by the children. Child health cooperative is a forum of street children where they discuss their health problems and chalk out strategies to combat health problems. Each child pays Rs.5 towards monthly memberships. The proceeds are used to provide medical care to the children. The cooperative has regular workshops where children deliberate on health issues and gain knowledge regarding diseases. This has instilled a sense of collective ownership and participation amongst them. The cooperative is open to any street and working children.
Aims of the Child Health Co-operative

To protect children from illness, especially preventable ones
To encourage children to remain healthy by giving them information and skills to make informed choices and decisions
To develop a feeling of collective responsibility among all children towards health
To form support groups of children to reduce risk behavior
To make provisions for treatment of children who are ill
To make children aware of the precautions that they can take against diseases while they are on the streets
To make them aware of the precautions against sexually transmitted diseases
To organize immunization programs so as to safeguard children from certain diseases
To protect children from substance abuse
To train a cadre of Child Health Educators
To access government health care facilities and ensure that poor children are given medical care
Child Health Co-operative Rules

The membership fee for the health cooperative would be Rs. 5 per month
Children will be motivated to regularly pay their membership fees
2 children in each contact point would be trained as child health educators so that they could help children who are ill at their contact point
A member of the health cooperative should regularly take part in all the activities of the health cooperative
Membership fees should be collected regularly
Other children should be motivated to become members of the health cooperative
Workshops on health issues should be organized regularly
Each contact point shall have a unit of the cooperative
Health Education
Health education is integrated as part of the Alternate Education curriculum, wherein children are oriented on issues related to personal hygiene, sanitation and health. Regular workshops are organized to orient children on different issues ranging from HIV/AIDS, nutrition, rabies, malaria and tetanus to tuberculosis. The primary objective is to increase and improve the knowledge skill of the children and thereby reduce their susceptibility.
Butterflies Health Post
In 2007, Butterflies initiated Health Post, which is primarily a treatment center as well as a convalescence place with beds available for street and working children who though discharged from hospitals still require medical care and assistance. Strategically located near the New Delhi Railway Station, which is one of our contact points, the health post also provides counseling service to children.