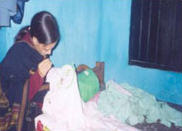 Tania Naaz, the daughter of a sex worker, lives in a red light district in Muzaffarpur, Bihar, an eastern state in India. She was in the ninth grade when her father got paralysed and became bed-ridden. Tania was not able to continue her studies. As part of a Muslim family in which females are not allowed to step out of the house, Tania made a brave decision by joining the embroidery program of Mahila Development Centre despite being condemned by the family. MDC is an NGO focused on rehabilitating sex workers and preventing their children from joining the profession. Constant unavailability of money and pressure from her parents to follow her mother's footsteps led Tania to join the embroidery program.
Though MDC staff and volunteer child managers told her about the bank, it was only after she saw other bank members realizing its benefits that Tania opened her account in July 2004. The possibility of getting an advance from the bank fascinated her. After a year of training in embroidery and making regular deposits in the bank, Tania took an advance of Rs. 5,000 ($100) from CDB in July 2005 and began her own business of embroidery work.
She started her embroidery work by taking orders from the neighbors and with time the popularity of her work increased threefold, so much so that shopkeepers want to do business with her. She earns Rs. 600 per month and is able to take care of her father's hospital bills and her brother's school fees. She intends to participate in exhibitions so that she can display her talent and earn more money.
Tania has returned Rs. 2,200 out of Rs 5,000 taken as advance and also has a cash balance of Rs. 1,250 in her account. She has found the bank very useful, as children find it easy to make use of its services. She is enthusiastic to work for the empowerment of other girls and that is her vision for the future.