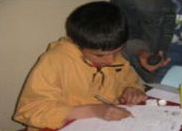 "I want to make it big"
"I want to restore Kabul to its past beauty"
– Words of a confident, independent, forward-looking 13-year old Omar from Kabul, Afghanistan.
Omar was born and brought up in Kabul, a city with half constructed, dilapidated, bullet-ridden buildings comprising a poverty-stricken population with few basic amenities. In this city, Omar lives with his family of six sisters and four brothers. His father owns a grocery store and his mother is a housewife.
Five years ago, Omar and his family members were going through a turbulent phase. Living a fearful life defined by extreme poverty, Omar had no option but to work on the streets at an early age. He was hardly 8 years old when he and his siblings started selling plastic bags and earning 50 Afghanis ($1) a day, while his father worked at a grocery store. He gave his earnings to his parents, retaining only a nominal amount (5 Afghani). Omar lived a life characterized by absence of school and surrendering his desires, hopes and wishes for the financial and emotional welfare of his family.
In 2003, Omar joined Aschiana, an Afghan non-government organization that provides services, support and programs for street and working children and their families in Kabul. He initially joined the education and painting program but grew actively involved in running and campaigning for the Children's Development Bank (CDB), opened by Butterflies in 2004. Omar opened his account in June 2004 with 5 Afghani and within a year he had 1,800 Afghani in his account. It is with his money saved in the CDB that Omar's father opened his own grocery store in Kabul. The family was also able to pay the monthly house rent (1,000 Afghanis), which saved them from being evicted.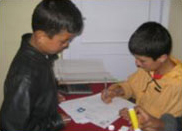 Omar and his siblings no longer work on the streets; they now go to a reputed school in Kabul. Currently Omar is the bank manager and earns 1,000 Afghanis per month. Out of his pay, he gives 800 Afghani to his parents and keeps the remaining 200 to himself to cover school supplies and clothes for his family. Omar feels proud of his contribution to his family's expenses and savings.
Omar considers the Children's Development Bank as a lifeline for children like him, who with the help of the bank can live a respectable lifestyle. He believes that the bank has made him independent, self-reliant and has also been a means for him to learn banking skills. Aiming to be a banker, Omar is working hard and with his conviction and sincerity, the sky is the limit.